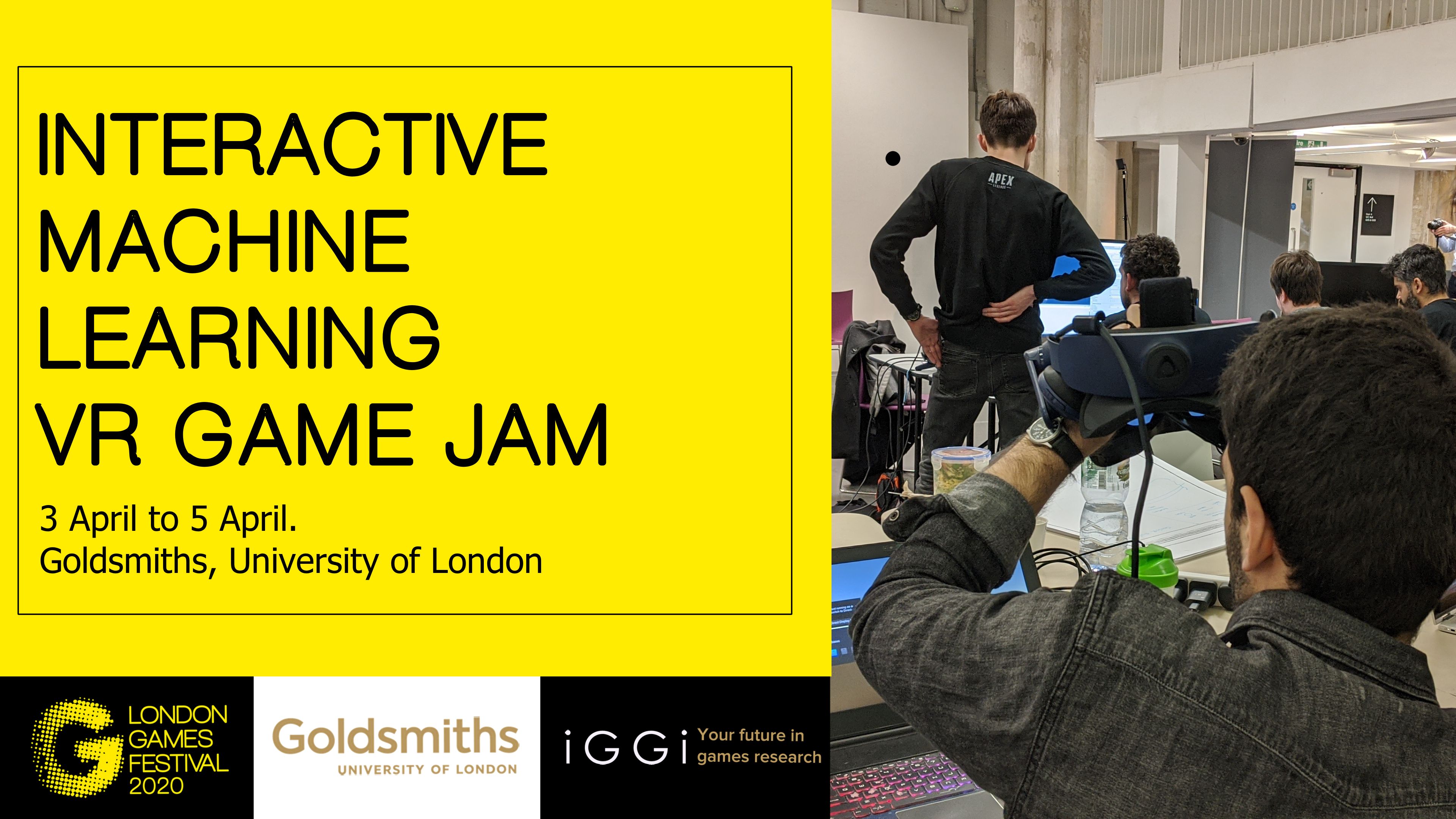 Interactive Machine Learning VR Game Jam (3-5 April 2020)
What is it?
Immersive technologies are increasingly more present and demanded, with an important rise of VR used for digital games. However, VR games incorporate sensors that make it difficult to process complex movement interactions. Therefore, creators often rely on simple direct controls, spending time and effort fine-tuning complex game interactions. Could there be a way to enrich VR movements allowing for more nuanced and expressive interactions?
Fortunately, there is: interactive machine learning! This game jam is focused on the playful exploration of how machine learning can be used in VR games. No previous experience needed; we will cover the basics during the day and will be there to help. All the machine learning will be visually coded using InteractML so you can just focus on making your expressive VR game shine.
What equipment is available?
Good news for you: we provide you all the necessary equipment you might need. We have several state of the art VR workstations with Oculus Rift and HTC Vives ready for you to use. But feel free to use any extra equipment you might want! We will provide space, tables, WiFi and power strips so that you can bring your own VR headsets and laptops.
What about food?
There are loads of places to go eat around Goldsmiths, and many of them very well priced and delicious! In addition, we will provide water and fruits throughout the day so you can be hydrated and full of vitamins.
Schedule
Friday, 3rd April: 5pm - 9pm. Registration, group forming and brainstorming! We will as well give a talk about how to use InteractML with Unity.
Saturday, 4th April: 9am - 9pm. Jamming! Now that you got everything working and an idea, go make it a reality! We will be there to help you and answer any questions you might have.
Sunday, 5th April: 9am - 5pm. Finish up and presentations. Wrap up your project and present to the others your game and the cool movement interactions that you created using InteractML.
Where is it happening?
The jam will be taking place in Ben Pimlott Building (BPB) Virtual Reality lab at Goldsmiths, University of London. You can't miss the building, it has a funky metal spaguetti sculpture on the roof :)
Important information
Please note that you can't stay overnight in the building as Goldsmiths closes down during nights. However, Goldsmiths is surrounded by public transport connections so you can reach home easily. Please be on time on Friday for registration and the brainstorming exercises as you will want to take part on those!
We will be available throughout the jam so that you can ask any questions you might have. And don't worry about asking simple, silly or complicated questions - we are there to assist you with anything :)
Accessibility: Entry to Ben Pimlott building is fully accessible and there is no need of taking lift as it is step-free access.
Bathrooms: There are gender neutral and disabled toilets.
If you have any additional questions, comments, concerns or just want to say hello, please feel free to reach out to us directly.
Email: hello@interactml.com